Egyptian Crafts
Hands-On History Crafts for Ancient Egypt
Egyptian crafts for kids are some of the best! Make a pyramid, write with hieroglyphs, make a cartouche, wrap a clay mummy, or play senet. Hands-on history activities about Egypt are not only fun, they also keep kids actively engaged in learning! And most of these Egyptian crafts are FREE!
For reading recommendations, visit our Reading List for Kids on Ancient Egypt!
Find more Ancient History projects on our pages for Ancient Civilizations Crafts AND the page for General Ancient World projects.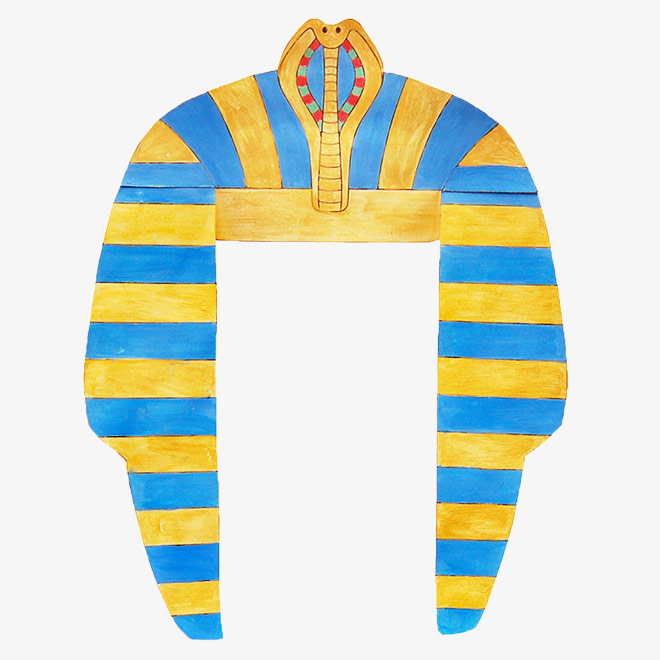 This is one of the simplest — and impressive, to boot — Pharaoh headdresses that I've seen! Just print, color (if you didn't already print it that way), cut, and glue. Easy enough for the younger child, but something an older child wouldn't mind making as well.
Make a paper model of the Great Pyramid of Khufu.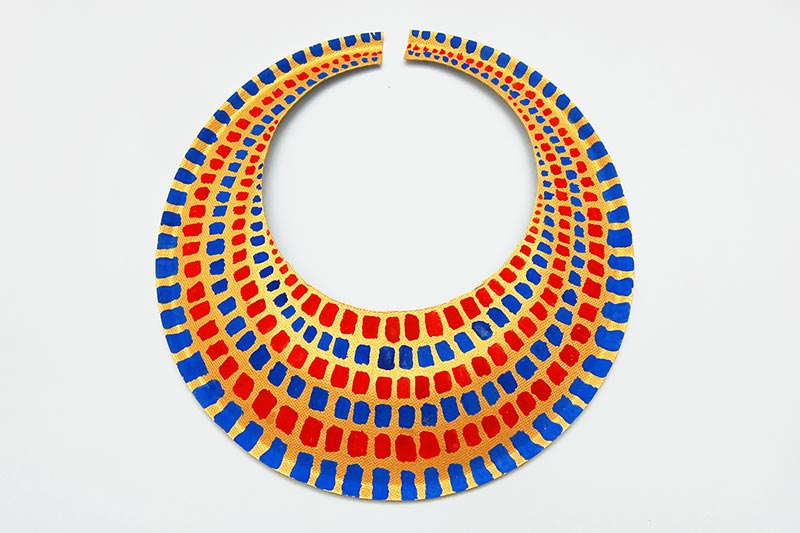 The First Palette site has several great (& easy) hands-on-history ideas for Egypt. Create an Ancient Egyptian Collar or Necklace using a paper plate and some paint, a bracelet or armband out of a toilet paper tube (and other misc. supplies), and a headband meant for Ancient Egyptian royalty from cardstock, etc.

Make the Double Crown of Egypt! Ebook instructions are available from A Book In Time that you can download in minutes. This craft is perfect for a classroom history project! It's simple, uses inexpensive supplies, and requires minimal prep time. Kids love making & wearing these!

Click here for a variety of amazing Egyptian art projects from the Detroit Institute of the Arts, including canopic jars and a paper pyramid.

Hands-On History ideas for Canopic Jars seem to be one of 2 extremes…either really advanced, or super easy. The advanced have heads made from clay on bases out of mini flower pots, all of which are painted with acrylic paints. The easier option is to just cut & color canopic jars OR color just the heads of a printout and glue them on small Dixie Cups or Toilet Paper Tubes!
Click here for a paper model of the Sphinx!
Fun with Hieroglyphs is the resource you need for all your hieroglyphic crafts and projects.
Includes 24 good-quality stamps, an ink pad, and a guidebook, which all fit neatly in a sturdy, book-sized case. Use the guide to spell your name in hieroglyphs. It's all phonetically-based, so going letter by letter won't work!

Make an Egyptian Cartouche out of clay!
Click the link (or the cartouche photo at the left) for more information and links to patterns!
(You will need Fun with Hieroglyphs (resource listed above) to make a really nice Egyptian cartouche.)
Make a Mummy! Have your students mummify an orange with this "Fruity Pharaoh" Lesson Plan!

Make a King Tut Death Mask out of paper-mache. Download this FREE Egyptian Craft Idea from Carol Henderson and A Book In Time!
Kids can create an Egyptian Death Mask out of household items (a plastic milk jug and paper plates) and some paint, etc. This craft is appropriate for small classroom settings or as a hands-on history project in the home school environment.

Build a Pyramid out of Sugar Cubes
This is another simple history project that kids love! Supplies needed are the cubes, glue, and a piece of sturdy cardboard (or paper plate or styrofoam tray, etc.) as your base.
Watch our A Book In Time video demonstration and read practical tips on our How to Build a Sugar Cube Pyramid page.
Build a Pyramid out of Miniature Marshmallows
Sometimes sugar cubes can be impossible to find, and sometimes the cost of an entire classroom of students to create sugar cube pyramids can be more than you want to spend. If you find yourself looking for an alternative to sugar cubes, miniature marshmallows are the answer. The kids like to build with these just as much, and possibly even more! Get details on how to make marshmallow pyramids here.

To make things even easier, you can watch our video on our How to Build a Miniature Marshmallow Pyramid!

Make a Pyramid Out of Paper at this site by simply printing out the pattern and having the kids cut & glue.
Play the Egyptian Mummy Race Game! Separate the kids into 2 teams and give each a roll of toilet paper. The teams choose a player to be their "mummy." At the signal, each team wraps its "mummy" (leaving room for breathing & seeing, of course!), and whoever is finished first wins!
Boise Art Museum offers a wealth of Egyptian ideas (developed by Shawn Phelps, art teacher at Blackfoot High School), including papyrus, jewelry, coloring sheets of the gods, senet, and the best cartouche craft out there!(If you want to make a cartouche, click here for tips!)
Find out how to dress like an Egyptian, including instructions for a collar, bracelets, and an amulet.
Find more Ancient History projects on our pages for
Ancient Civilizations Crafts AND the page for General Ancient World Projects.
Please e-mail us with any links to add to this collection!